Projects
Current Projects
Food systems and nutrition
The availability of big data from Novel Data Streams (NDS) – such as longitudinal spatiotemporal mobility data from smartphones, point of interest data, and social media data – has opened up new opportunities for monitoring, measuring, and modeling food systems and the food environment, how individuals dynamically interact with these systems, and how this may affect their food choices and contribute to disparities in nutritional health, all at a population-scale. Our research is leading the integration of NDS and state-of-the-art data science methods to investigate these new opportunities, aiming to inform system-level interventions that can help to improve diets and prevent diet-related diseases including obesity and diabetes.
Modeling food supply networks and tracing foodborne disease contamination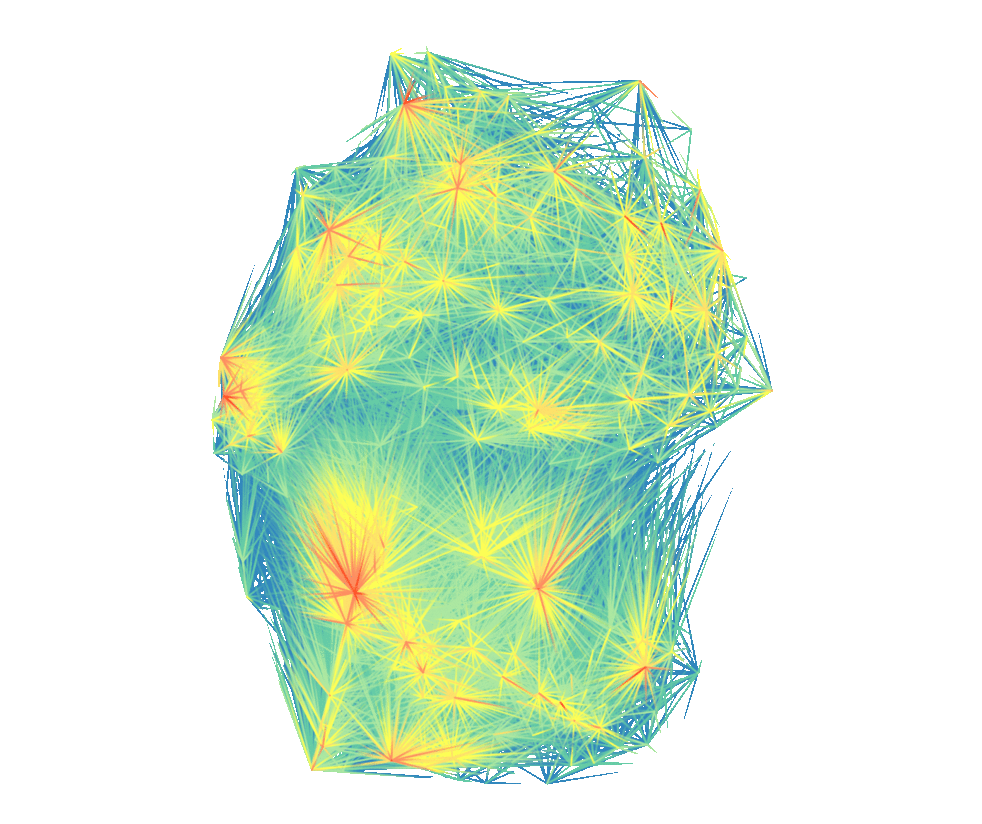 With the aim of producing decision models for guiding investigators to implement effective interventions during foodborne disease outbreaks, our team has developed network models of large-scale food supply system structure and mathematical models of the transmission of foodborne disease across these networks. Models of the food supply system network structure have been developed using data from agriculture, industry, transport, mobility, and retail, and methods from transport engineering and logistic flows modeling. Mathematical models and data-derived inference approaches have been developed for tracing the food and location source of large-scale outbreaks of foodborne disease. This work has been implemented at the Federal Institute for Risk Assessment, Germany's federal-level food safety research agency. We have written several reviews related to these topics.
Recent talks
Network-based signal resonance for source identification in large-scale foodborne disease outbreaks, USC Biostatistics Seminar YouTube
Selected publications


---
Novel data analytics for understanding eating behaviors in context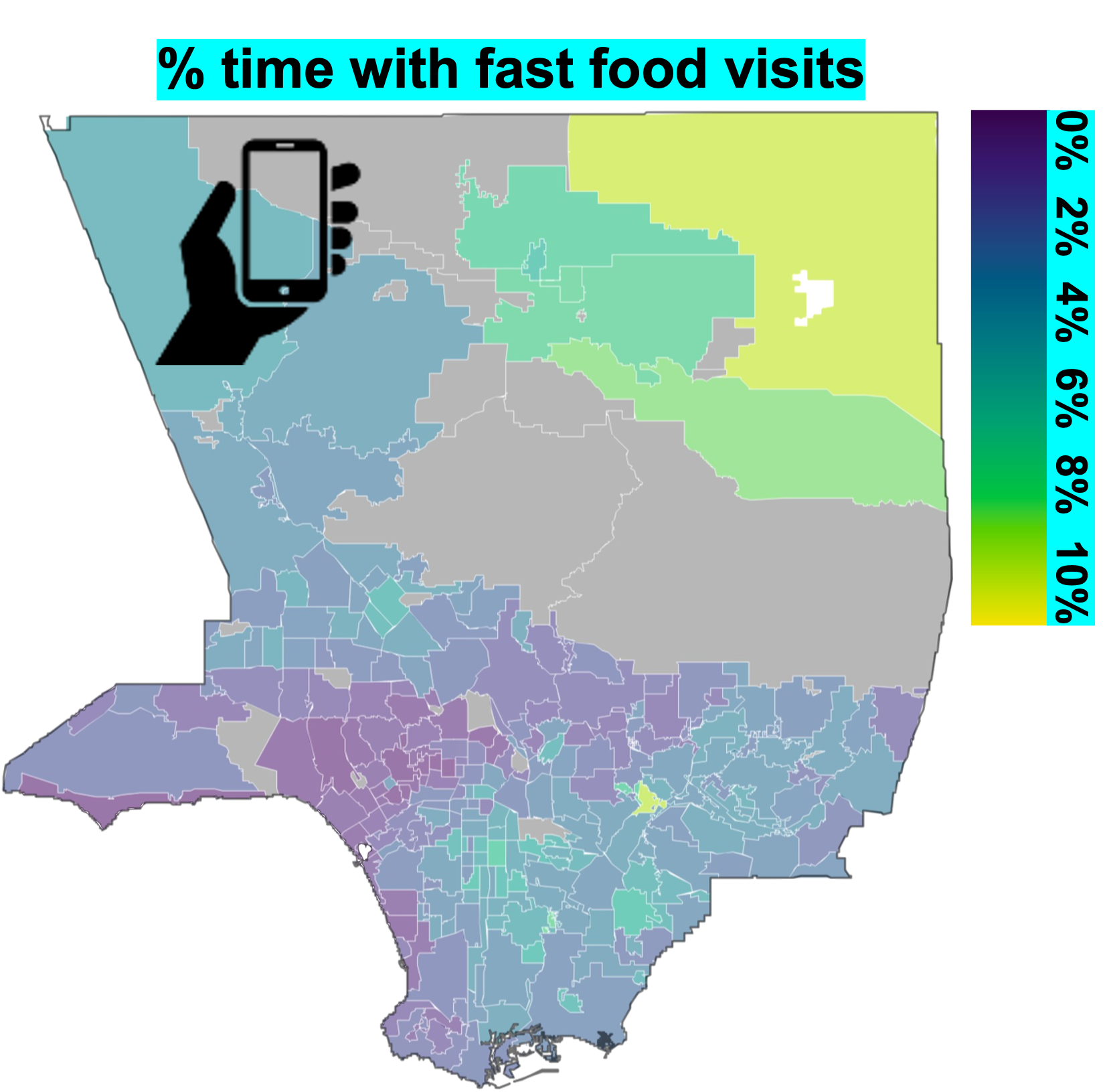 Our team has pioneered the use of population-scale individual-level geolocation mobility data to investigate the dynamic food environments people are exposed to in their daily routines and activities beyond the home and how these exposures influence eating behavior and dietary health. Our first paper in this area establishes that this convenient, passively collected source of big data provides useful indicators of food intake and diet-related disease within large, diverse urban populations that may be better than self-reported intake by associating with individual-level measures of diet and disease from a large health survey of LA residents. These findings lay the groundwork for a next stage of research that uses mobility data to provide unique insights into casual mechanisms linking features of food environments and eating behaviors through the use of statistical designs that leverage "natural experiments" (e.g., when smartphone users move or change food environments).
Related publications
Investigating mobility-based fast food outlet visits as indicators of dietary intake and diet-related disease (2021) medRxiv


---
Social media data for characterizing the nutritional quality of restaurants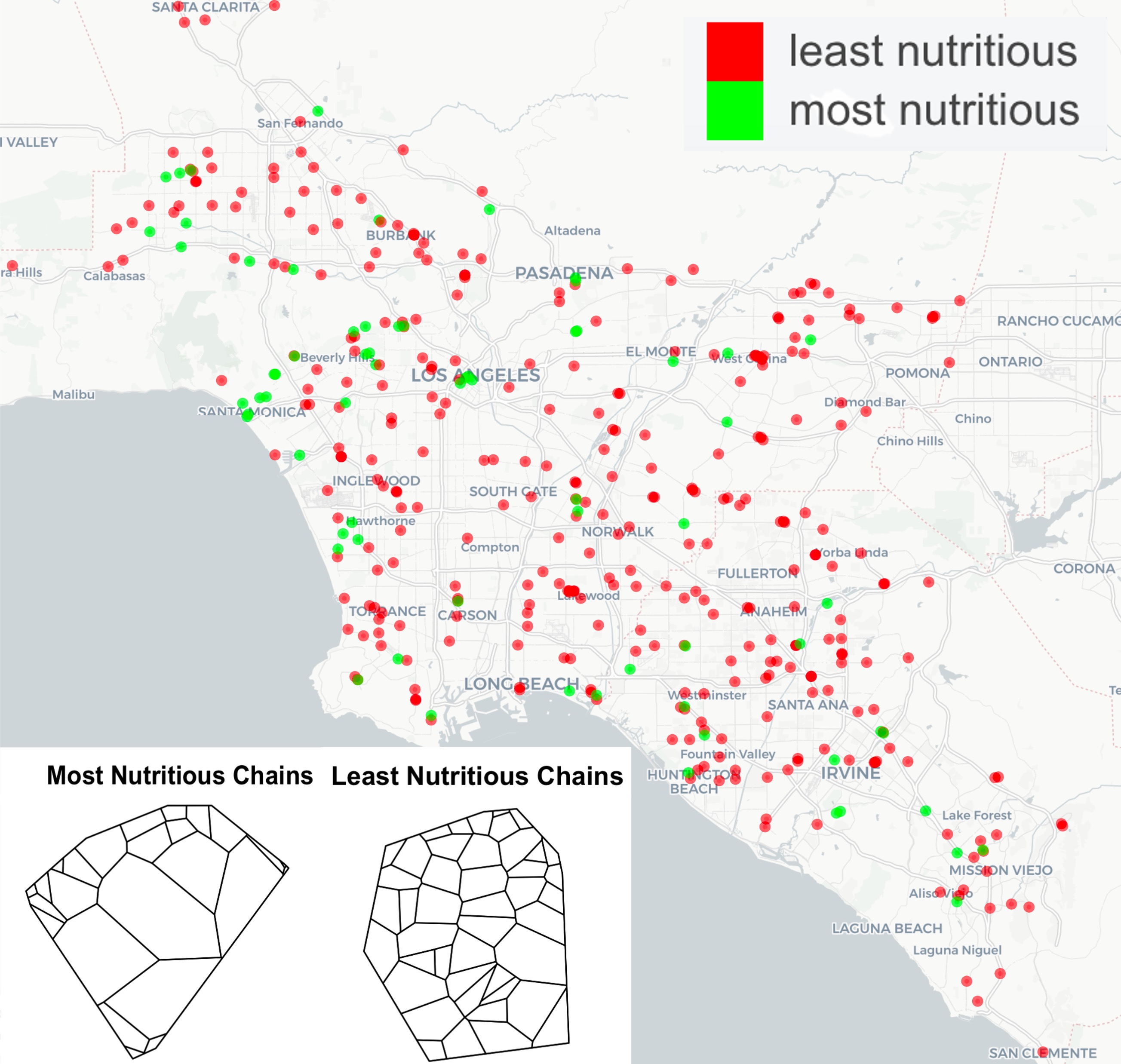 The most commonly used indicators of food environment nutritional quality are limited to measuring the binary presence or absence of entire categories of food outlet type, such as 'fast-food' outlets, which can range from burger joints to salad chains. Our team has introduced the use of large-scale digital menu data from social media sources to characterize the nutritional quality of food environments. We have developed a summarizing indicator of restaurant nutritional quality that exists across a continuum, and which can be applied at scale to make distinctions between diverse restaurants within and across categories of food outlets. We illustrate how the indicator can be used to make distinctions between diverse restaurants within and across food outlet categorizations within LA County to help to uncover patterns of disparities in access to high nutritional quality food that are typically hidden under 'top-level' food outlet classification schemes such as NAICS's fast food outlet classification. We are currently extending this work to investigate relationships between food environment nutritional quality and diet-related diseases in and beyond LA.
Related publications
A continuous indicator of food environment nutritional quality (2021) Link


---
COVID-19 epidemic modeling and policy analysis in LA County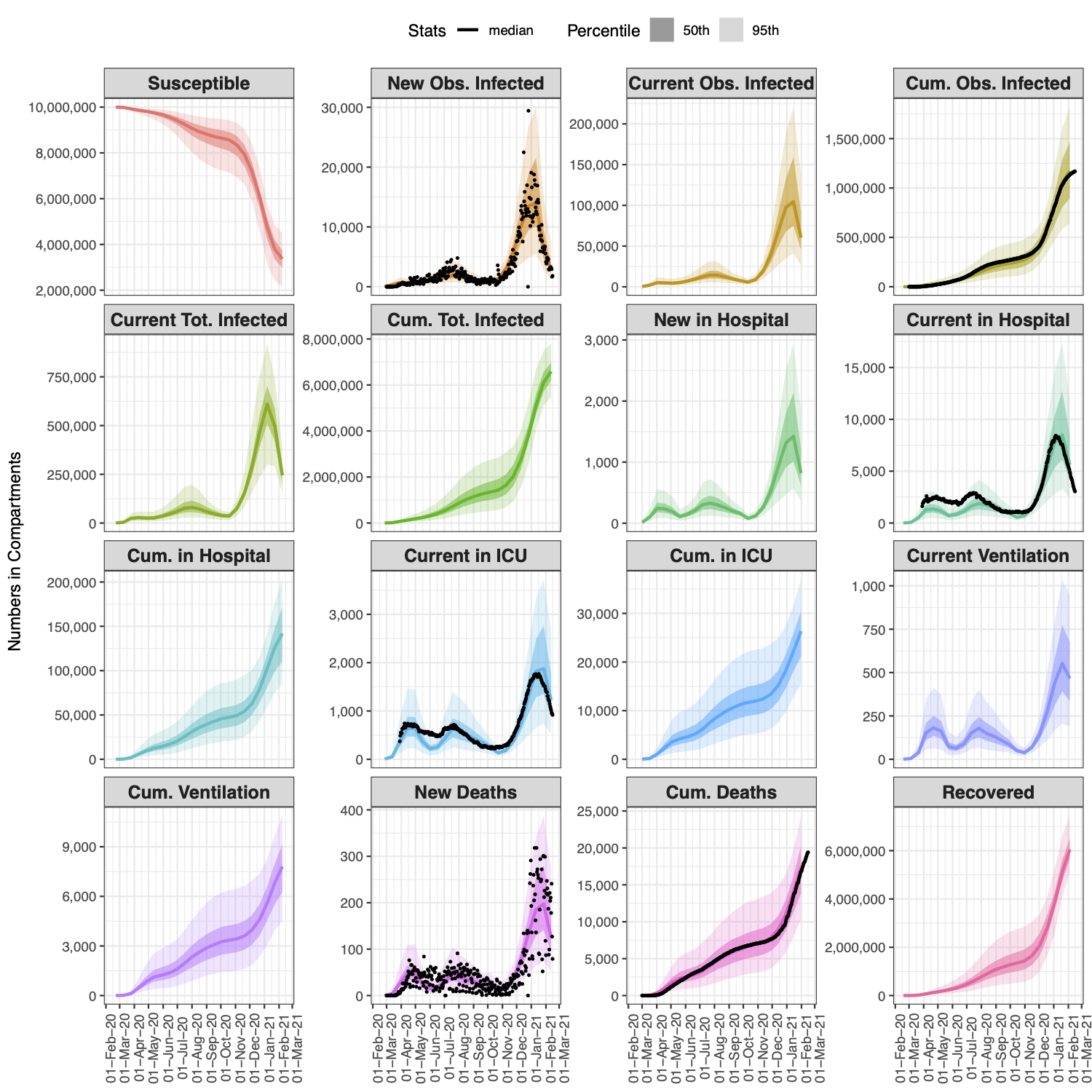 A new area of research, developed in response to direct requests from the Los Angeles County Department of Public Health, involves the use of data analytics and epidemiological modeling to understand and address health disparities resulting from the COVID-19 epidemic in LA County. As the pandemic has evolved, our team has developed epidemiological models informed by COVID-19 epidemic data shared by the LACDPH and large-scale behavioral data from mobility sources. We have been estimating infection and death rates (CFR and IFR) among subpopulations defined by health risk factors and risk behaviors, studying the drivers of observed disparities in these rates, and anticiipating the effect of various mitigation efforts on at-risk populations including testing, vaccination, distancing, and other policy interventions.
Related publications
An integrated risk and epidemiological model to estimate risk-stratified COVID-19 outcomes for Los Angeles County: March 1, 2020—March 1, 2021 (2021) Link

Estimation of COVID-19 risk-stratified epidemiological parameters and policy implications for Los Angeles County through an integrated risk and stochastic epidemiological model (2020) medRxiv
Media
USC Study finds COVID-19 vaccines saved thousands of lives
KNX Radio Los Angeles, October 2021 Link
Have half of L.A. County residents had COVID-19? It depends whose estimate you trust
Los Angeles Times, March 5, 2021 Link
Those previously infected with COVID-19 should delay getting a vaccination
Neeraj Sood, Abigail L. Horn, David V. Conti
CalMatters, January 27, 2021 Link


---